US Marines
Combined Action Platoons
(CAC/CAP)
Web Site

Vietnam
1965-1971

"Never again will one generation
of veterans abandon another."


Tom Holmann
Secretary
Vietnam Veterans of America
California State Council
Web Site Created & Edited by Tim "CAPVet" Duffie, November 10, 1996
---
"We Are All Alone In Indian Country"
That was how we described it when we talked among ourselves in the 1960s. While not politically correct in the '90s, it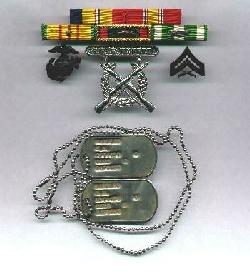 summarized how a squad of fourteen Marines and one Navy Corpsmen felt as they stood for the first time in an isolated Vietnamese village surrounded by jungle, booby-traps, and thousands of supposedly hostile Vietnamese civilians. They were part of the Marine Corps Combined Action Program (CAP). CAP placed a squad of Marines and one Navy Corpsman in villages from Chu Lai to the DMZ in South Vietnam from 1965 to 1971.
Images of fanatical Viet Cong pouring out of the villages, jungles, and rice paddies hovered in the mind of each of us as we hunkered down for our first night of sleep in such supposedly hostile territory. That first night each Marine and Corpsman counted the friendly faces of a handful of Americans, then looked with mixed emotions at a poorly equipped platoon of Vietnamese Popular Forces (PFs), the local village "militia".
Each Marine or Corpsman certainly pondered the distance to the nearest American military base. Each calculated how long it would take for help to arrive. Each felt that when needed, help would probably not arrive in time.
This web site is dedicated to those Marines, Corpsmen, Vietnamese Popular Forces, and Vietnamese villagers who became our friends, our allies, and our brothers.
Most importantly, it is dedicated to those of our number whose names now grace a granite wall in Washington, D.C.

Tim "CAPVet" Duffie, editor of the CAP Web Site, with Little Hue,
Lai Phuoc Hamlet, Trieu Ai Village, Quang Tri Province, Vietnam, April, 1967.

This Web Site was started in November, 1996. It has grown rapidly due to the efforts of dozens of Marines and Navy Corpsmen who have contributed. If you take the time to browse this Web Site, we can assure you a perspective of the war in Vietnam that you will not find anyplace else. That perspective will come from those Marines and Corpsmen who spent much of their tour living in 114 Vietnamese villages and hamlets throughout the I-Corps area of South Vietnam.

If you are a visitor wanting to learn more about the Vietnam War, and the role the CAP Program played in the war, you will find General Articles to be of interest. Stories and pictures from CAP Units, submitted by the CAP Veterans who have located the Web Site, are indexed at Unit Histories. Unit rosters with the names of those assigned to each unit are available at Unit Rosters

If you just like a variety of Vietnam War related paraphenalia, try the CAP Memorabilia page. The memorabilia page is linked to various graphics and short stories of interest to the CAP Veteran and student alike. There you will learn why the Vietnamese people were offended when we reached out with one hand and gave them a gift. CAP Marines and Corpsmen learned many cultural idiosyncracies of the Vietnamese people so as to allow us to live in their villages while, at the same time, not offending them by ignoring their centuries old culture.
CAP Veterans learned the meaning of "When in Rome, do as the Romans do." When we sat in their homes, we didn't cross our legs; we bowed appropriately and shook hands with both hands, and, most importantly, when we ate in their homes we never emptied our plates. We learned to always leave a little bit of food on the plate to signal that we'd had enough. An empty plate was immediately re-supplied since the family assumed we were still hungry.

The Marines and Corpsmen of the CAC/CAP units attempted to isolate the people of select villages from the ravages of the war. CAP villages were no longer targets of Gen. Westmoreland's indiscriminate Search and Destroy mentality so prevalent during the Vietnam War. We shared the risk of living in the villages 24 hours a day, thereby earning the love and respect of thousands of our villagers who simply wanted to survive a war they didn't want.

We take great pride in the fact that we helped thousands of them do just that.
---
Miguel Keith
MOH Recipient
CAP 1-3-2
Miguel Keith joined the Marine Corps immediately after high school. By the age of 18, he was already through infantry training and serving in Vietnam. When his Combined Action Platoon came under heavy attack, Keith acted as a machine gun-wielding, one-man force against the onslaught. Despite multiple wounds and getting blown up by a grenade, Keith rushed into the teeth of the attack multiple times. He sustained mortal wounds while confronting 25 enemy. For his amazing courage and dedication, Keith posthumously received the Medal of Honor. In May 2021, the U.S. Navy commissioned the USS Miguel Keith (ESB-5) in his honor.


...serving as a machine gunner with Combined Action Platoon 1-3-2, Third Marine Amphibious Force, operating in Quang Ngai Province. During the early morning of 8 May 1970, LCpl Keith was seriously wounded when his platoon was subjected to a heavy ground attack by a greatly outnumbering enemy force. Despite his painful wounds he ran across the fire-swept terrain to check the security of vital defensive positions and then, while completely exposed to view, delivered a hail of devastating machine gun fire against the enemy. Determined to stop five of the enemy approaching the command post, he rushed forward, firing as he advanced. He succeeded in disposing of three of the attackers and in dispersing the remaining two. A grenade detonated near LCpl Keith, knocking him to the ground and inflicting further severe wounds. Fighting pain and weakness from loss of blood, he again braved the concentrated hostile fire to charge an estimated 25 enemy soldiers who were massing to attack. The vigor of his assault and his well-placed fire eliminated four enemy while the remainder fled for cover. During this valiant effort he was mortally wounded. By his courageous and inspiring performance in the face of almost overwhelming odds, LCpl Keith contributed in large measure to the success of his platoon in routing a numerically superior enemy force."


Miguel Keith, CAP 1-3-2
---
New Text Books

School teacher near CAC Papa 3
Quang Tri Province, 1967.
Property of Edward Palm, CAC Papa 3.

This school teacher graphic depicts the predicament many of the villagers experienced with the advent of a squad of Marines in their villages. Traditionally the villages were controlled by Viet Cong terrorists. There was a large presence of Local and Hard Core Viet Cong in her village. Additionally, the bloodiest battles of 1967, The Hill Battles, Hill 881N, Hill 881S and Hill 861, were taking place within three miles of her village. In retrospect, this teacher, and all the villagers, had to have serious doubts that this small unit of Marines could protect them.

In this particular graphic, the Marines and local Popular Force soldiers were proudly donating school books approved by the South Vietnamese government for her class. We can see mixed emotions on her face...

...pleased to receive anything she could use to teach her students...
...terrified as to what would happen to her if the Viet Cong learned she was using South Vietnamese approved books.

Uncertain if the Marines & Popular Forces could protect her from an assassination she knew would result from accepting the books, we can forgive her for being less than enthusiastic over the gift.
---
"Vietnamese people in some of the [CAP] hamlets still, twenty five plus years after-the-fact, hold annual memorial services for the young men who died to keep them and their children free."
LtCol. William R. Corson
---
Combined Action Platoons
The Marine's Other War In Vietnam
By: Michael E. Peterson
Praeger Publishers, New York, NY
Page 19
Perhaps the most telling feature of that policy [...conventional main-force battalions operating in free-fire zones to search out and destroy the enemy's formations], as well as an indicator of its ultimate failure, was contained in a statement to reporters in 1965 by the personification of the U.S. involvement in Vietnam, General William C. Westmoreland. He said that as a result of U.S. strategy, the Vietnamese peasant would be confronted with three choices: he could stay close to his land (usually in a free-fire zone); he could join the Viet Cong (the target in that free-fire zone); or he could move to an area under South Vietnamese government control and become a refugee.

"Doesn't that give the villager only the choice of becoming a refugee?" one journalist inquired.

"I expect a tremendous increase in the number of refugees," Westmoreland answered.

In effect, Westmoreland had declared war against peasant society in Vietnam. In my own opinion, that is the day the United States irretrievably lost that war.
---
Reunion 2022
Dr. Jeannie Johnson
Dr. Jeannie Johnson is the best friend we CAP Marines & Corpsmen have. Three times she has given a presentation at CAP Reunions. Each time, when she finished her presentation there were tears, cheers, and a standing ovation ... not common for an "outsider". She ranks high on the list of those knowledgeble in counterinsurgency warfare, and her words carry the authority of her friendship with former Secretary of Defense, Gen. James Mattis.
I have provided her credentials below, as well as a link to her most recent presentation at the 2022 Reunion in Phoenix, AZ. Her presentation ends with her induction into the CAP Unit Veterans Association as an Associate Member ... a well deserved honor. It has received unanimous acceptance by the CAP Association membership.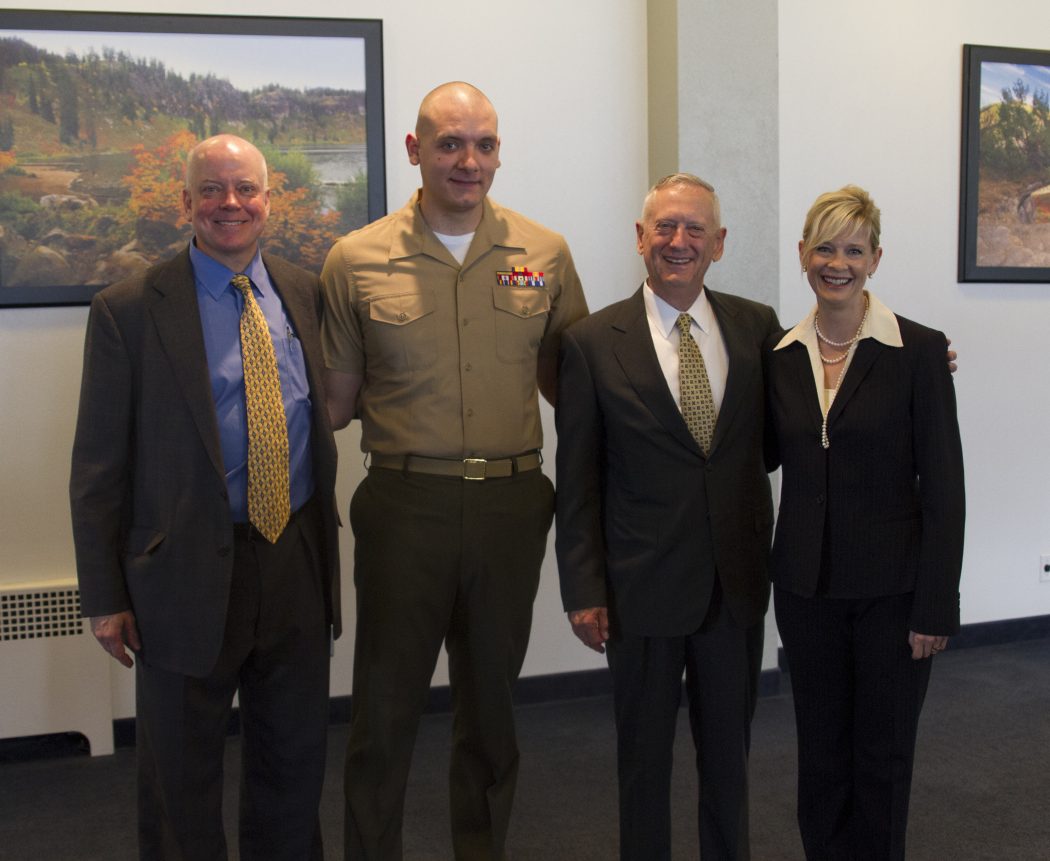 Jeannie L. Johnson is an Associate Professor in the Political Science Department at Utah State University. Dr. Johnson's primary research interest, strategic culture, examines the impact of national and organizational cultures on the formation of security policy.
Dr. Johnson serves as Director of USU's groundbreaking Center for Anticipatory Intelligence, an interdisciplinary nexus fusing expertise in national security and geopolitics with cutting-edge instruction in cyber threats, data analytics, and emergent technology. The CAI facilitates academic programs—the nation's first undergraduate Minor in Anticipatory Intelligence and a forthcoming Graduate Certificate in Anticipatory Intelligence—and engages in research and partnerships with government and industry. 
Prior to her academic career, Dr. Johnson worked within the Central Intelligence Agency's Directorate of Intelligence as a member of the Balkan Task Force from 1998-1999 and served with the US State Department in Embassies Paris and Zagreb. The Cultural Topography analytic method she pioneered with co-author Matt Berrett was featured in CIA's June 2011 edition of Studies in Intelligence.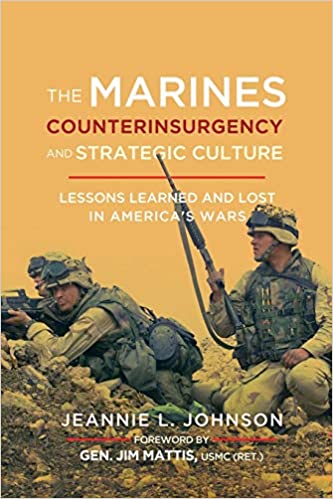 Jeannie L. Johnson takes a sympathetic but critical look at the Marine Corps's long experience with counterinsurgency warfare. Which counterinsurgency lessons have been learned and retained for next time and which have been abandoned to history is a story of battlefield trial and error - but also a story of cultural collisions.
The audiobook begins with a fascinating and penetrating look inside the culture of the Marine Corps through research in primary sources, including Marine oral histories, and interviews with Marines. Johnson explores what makes this branch of the military distinct: Their identity, norms, values, and perceptual lens. She then traces the history of the Marines' counterinsurgency experience from the expeditionary missions of the early 20th century, through the Vietnam War, and finally to the Iraq War. Her findings break new ground in strategic culture by introducing a methodology that was pioneered in the intelligence community to forecast behavior. Johnson shows that even a service as self-aware and dedicated to innovation as the Marine Corps is constrained in the lessons-learned process by its own internal predispositions, by the wider US military culture, and by national preferences. This is a must-listen for anyone interested in the Marines Corps, counterinsurgency warfare, military innovation, or strategic culture.
The book is published by Georgetown University Press. The audiobook is published by University Press Audiobooks.
To purchase the book, go to: The The Marines Counterinsurgency And Strategic Culture
---
"The struggle was in the rice paddies...in and among the people, not passing through, but living among them, night and day...and joining with them in steps toward a better life long overdue."
Memoirs of Gen. Lew Walt
USMC, Retired
---
Masters Thesis by Aaron M Grant, Staff Sergeant U.S.M.C. Retired
---
For Those Who May Not Have Seen This On The Guestbook
Entry #: 20
Date: 2006-07-30 14:54:18
Name: Cau Le (Former Colonel ARVN)
Site Rating: 10
Comments: I wish to offer my sincere gratitude to the men and women who fought against the Communist. I was captured by the Communist after the fall of Saigon, and spent eight years in solitary confinement, and three years in prison. I'm now proud to be an American citizen. To those service people of the Marines, Navy, Army, and Air Force who gave up their life for freedom in Vietnam, may they R.I.P.

Your web site is wonderful.
Cau Le

---

A complete listing of CAP KIAs as submitted by Rick Schelberg, CAP 2-4-3. The following are those pages indexed in a variety of formats.

Note
CAG = Combined Action Group / CACO = Combined Action Company / CAP = Combined Action Platoon

---

CAP Web Site Index