US Marines
Combined Action Platoons
(CAC/CAP)
Web Site

Vietnam
1965-1971

"Never again will one generation
of veterans abandon another."
Tom Holmann
Secretary
Vietnam Veterans of America
California State Council
Web Site Created & Edited by Tim "CAPVet" Duffie, 1996
---
"We Are All Alone In Indian Country"
That was how we described it when we talked among ourselves in the 1960s. While not politically correct in the '90s, it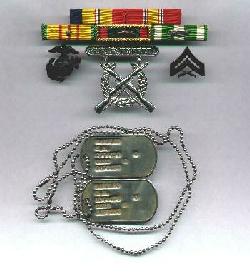 summarized how 5,000 Marines and Navy Corpsmen felt as they stood for the first time in an isolated Vietnamese village, surrounded by jungle, booby-traps, and thousands of supposedly hostile Vietnamese civilians. They were part of the Marine Corps Combined Action Program (CAP). CAP placed a squad of Marines and one Navy Corpsman in villages from Chu Lai to the DMZ in South Vietnam from 1965 to 1971.

Images of fanatical Viet Cong pouring out of the villages, jungles, and rice paddies hovered in the mind of each of us as we hunkered down for our first night of sleep in such supposedly hostile territory. That first night each new Marine and Corpsman counted the friendly faces of a handful of Americans, then looked with mixed emotions at a poorly equipped platoon of Vietnamese Popular Forces, the local village "militia".

Each Marine or Corpsman certainly pondered the distance to the nearest American military base. Each calculated how long it would take for help to arrive. Each knew that, when needed, help would probably not arrive in time.

This web site is dedicated to those Marines, Corpsmen, Vietnamese Popular Forces, and Vietnamese villagers who became our friends, our allies, and our brothers.

Most importantly, it is dedicated to those of our number whose names now grace a granite wall in Washington, D.C.

Tim "CAPVet" Duffie, editor of the CAP Web Site, with Little Hue,
Lai Phuoc Hamlet, Trieu Ai Village, Quang Tri Province, Vietnam, April, 1967.

This Web Site was started in November, 1996. It has grown rapidly due to the efforts of dozens of Marines and Navy Corpsmen who have contributed. If you take the time to browse this Web Site, we can assure you a perspective of the war in Vietnam that you will not find anyplace else. That perspective will come from those Marines and Corpsmen who spent much of their tour living in 114 Vietnamese villages and hamlets throughout the I-Corps area of South Vietnam.

If you are a visitor wanting to learn more about the Vietnam War, and the role the CAP Program played in the war, you will find General Articles to be of interest. Stories and pictures from CAP Units, submitted by the CAP Veterans who have located the Web Site, are indexed at Unit Histories. Unit rosters with the names of those assigned to each unit are avaialable at Unit Rosters

If you just like a variety of Vietnam War related paraphenalia, try the CAP Memorabilia page. The memorabilia page is linked to various graphics and short stories of interest to the CAP Veteran and student alike. There you will learn why the Vietnamese people were offended when we reached out with one hand and gave them a gift. CAP Marines and Corpsmen learned many cultural idiosyncracies of the Vietnamese people so as to allow us to live in their villages while, at the same time, not offending them by ignoring their centuries old culture.
CAP Veterans learned the meaning of "When in Rome, do as the Romans do." When we sat in their homes, we didn't cross our legs; we bowed appropriately and shook hands with both hands, and, most importantly, when we ate in their homes we never emptied our plates. We learned to always leave a little bit of food on the plate to signal that we'd had enough. An empty plate was immediately re-supplied since the family assumed we were still hungry.

The Marines and Corpsmen of the CAC/CAP units attempted to isolate the people of select villages from the ravages of the war. CAP villages were no longer targets of the indiscriminate Search and Destroy mentality so prevalent during the Vietnam War. We shared the risk of living in the villages 24 hours a day, thereby earning the love and respect of thousands of our villagers who simply wanted to survive a war they didn't want.

We take great pride in the fact that we helped thousands of them do just that.
New Text Books

The school teacher graphic (right) depicts the predicament many of the villagers experienced with the advent of a squad of Marines in their villages. Traditionally the villages were controlled by Viet Cong terrorists. It was common for the Viet Cong to visit a village late at night, take a child into the village square, then assassinate that child as an example of what would happen should the villagers support the South Vietnamese & their American allies. In this particular graphic, the Marines and local Popular Force soldiers were proudly donating school books approved by the South Vietnamese government for her class. We can see mixed emotions on her face...

...pleased to receive anything she could use to teach her students...

...terrified as to what would happen to her if the Viet Cong learned she was using South Vietnamese approved books.

Uncertain if the Marines & Popular Forces could protect her from an assassination she knew would result from accepting the books, we can forgive her for being less than ecstatic over the gift.


School teacher near CAC Papa 3
Quang Tri Province, 1967.
Property of Edward Palm, CAC Papa 3.
---
"Vietnamese people in some of the [CAP] hamlets still, twenty five plus years after-the-fact, hold annual memorial services for the young men who died to keep them and their children free."
LtCol. William R. Corson
---
Combined Action Platoons
The Marine's Other War In Vietnam
By: Michael E. Peterson
Praeger Publishers, New York, NY
Page 19
Perhaps the most telling feature of that policy [...conventional main-force battalions operating in free-fire zones to search out and destroy the enemy's formations], as well as an indicator of its ultimate failure, was contained in a statement to reporters in 1965 by the personification of the U.S. involvement in Vietnam, General William. C. Westmoreland. He said that as a result of U.S. strategy, the Vietnamese peasant would be confronted with three choices: he could stay close to his land (usually in a free-fire zone); he could join the Viet Cong (the target in that free-fire zone); or he could move to an area under South Vietnamese government control and become a refugee.

"Doesn't that give the villager only the choice of becoming a refugee?" one journalist inquired.

"I expect a tremendous increase in the number of refugees," Westmoreland answered.

In effect, Westmoreland had declared war against peasant society in Vietnam. In my own opinion, that is the day the United States irretrievably lost that war.
---
The Strategic Impact of Service Culture on
Counterinsurgency Operations
United States Marine Corps
A Doctoral Dissertation by Dr. Jeannie L. Johnson
Utah State University
Political Science Professor
CIA Intelligence Analyst
DoD Advisor
Dr. Jeannie L. Johnson

For those of you who missed the 2013 reunion, you missed a powerful presentation by Dr. Jeannie L. Johnson. With irrefutable facts, as well as a clear understanding of the impact of ignoring the cultures of the countries in which we are conducting military activities, Dr. Johnson assured all present that our CAP Program worked…not in every aspect…but the overall program was a success. Quoting from no less than Gen Mattis she had many of the CAP Marines present in tears. For most of us in attendance it was a cathartic moment…a moment when years of frustration, doubt and uncertainty, were put to rest once and for all.

She received a standing ovation…something extremely rare for an "outsider"!

As one CAP Marine told Dr. Jeannie later, "Halfway through the presentation I was proud to be a Marine. By the end of the presentation, I was proud to be a CAP Marine!"
I had the good fortune to spend quite a bit of time with Dr. Jeannie. Several months prior to the reunion I had sent her a copy of the Life Magazine To Keep A Village Free edition. She used that article in her Poli Sci class at Utah State University the week of our reunion. She had looked up each member listed to see who had survived the war. She states emphatically that the Life Magazine is something she will treasure forever.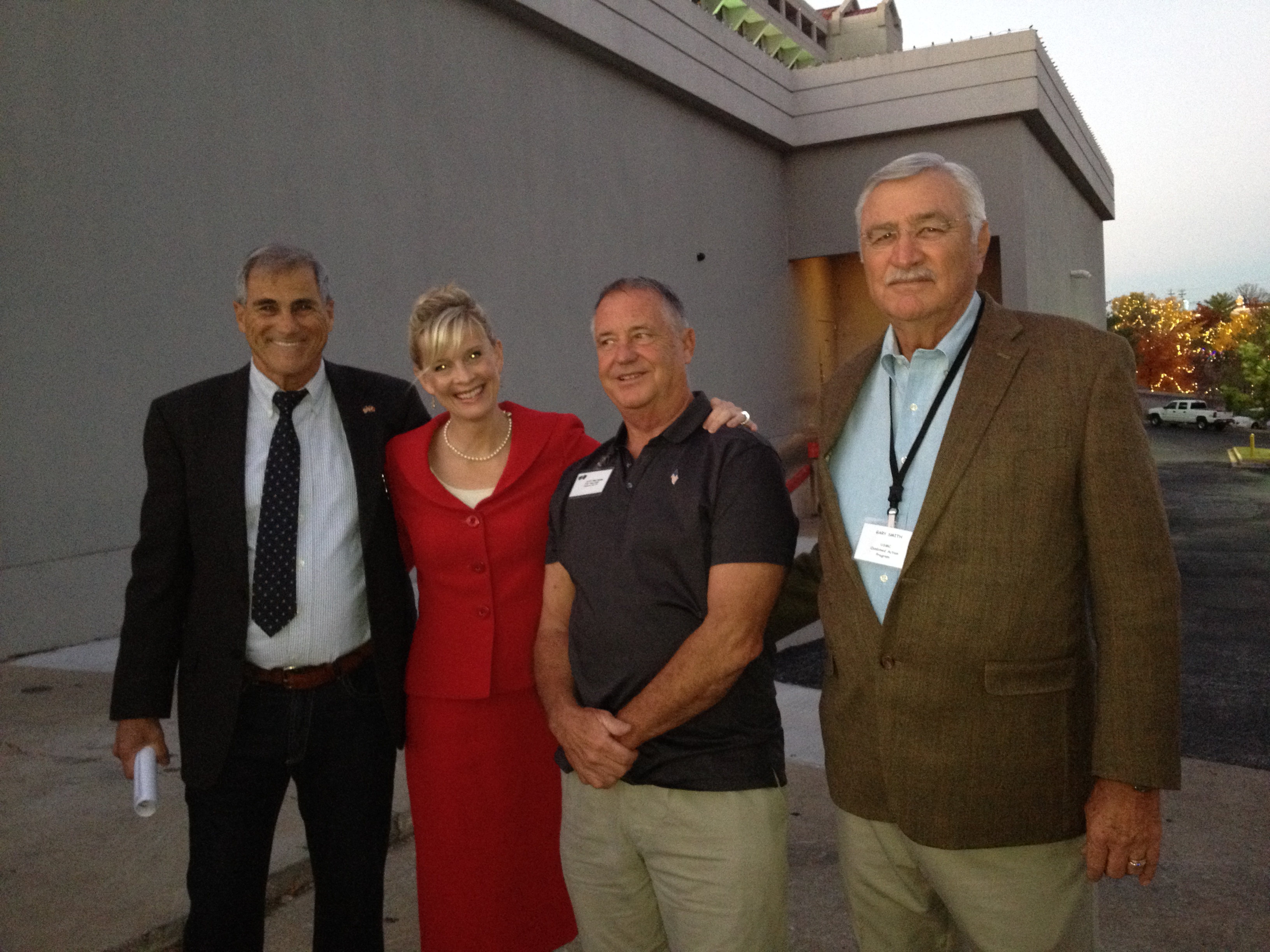 With Echo 2 fresh in her mind, one of her greatest hopes was that she would meet some of the Echo 2 Marines at the reunion. On Friday night as I was sitting with Dr. Jeannie on the bus waiting to leave for dinner, I vaguely remembered that I'd heard about a Marine named Ron Schaedel, and maybe, just maybe, he was Echo 2. Ironically, Ron was sitting just across the aisle from us on the bus.
"Ron, what CAP Unit were you in?"
"Echo 2."
Left to Right: Ron Schaedel, Dr. Jeannie Johnson, Mike Mullins, Gary Smith, CAP Echo 2
I will never forget the look on Dr. Jeannie's face when she realized she was that close to one that she had studied so intently since receiving the Life Magazine. I almost regret not moving to another seat and letting her revel in that moment by herself!
Thank you, Dr. Jeannie. I will treasure that memory forever. As I told the CAP Veterans at the reunion when I introduced you, CAP has no greater friend than you!
An E-mail From Dr. Jeannie Johnson To CAP Veteran Dave Anderson
The most powerful take-away from this research for me has been precisely what you outline below: that we tend to naively repeat the same patterns in new counterinsurgency locations across time. The CAP program was a break, in several important ways, with that pattern. It shows we can do things differently, better. We don't have to be victims of our own historical inertia.

The other take-away is that regardless of which counterinsurgency strategy we pursue -- including the very best bits gleaned from the CAP program -- we cannot succeed in the political endgame (typically the primary purpose of the war in the first place) without a steady and legitimate host government stepping in to provide services and connect with its people once Marines have created the security space to do so. Our counterinsurgency strategy will always rank second in importance to the ability of the resident government to inspire loyalty from its citizens. We can't create that bond for them. And it is the thing that most matters in the end.
Dr. Jeannie Johnson with Web Site Creator Tim "CAPVet" Duffie
She was proud of that tee-shirt. Wore it on the plane all the way home.
---
"The struggle was in the rice paddies...in and among the people, not passing through, but living among them, night and day...and joining with them in steps toward a better life long overdue."
Memoirs of Gen. Lew Walt
USMC, Retired
---
Masters Thesis by Aaron M Grant, Staff Sergeant U.S.M.C. Retired
---
For Those Who May Not Have Seen This On The Guestbook
Entry #: 20
Date: 2006-07-30 14:54:18
Name: Cau Le (Former Colonel ARVN)
Site Rating: 10
Comments: I wish to offer my sincere gratitude to the men and women who fought against the Communist. I was captured by the Communist after the fall of Saigon, and spent eight years in solitary confinement, and three years in prison. I'm now proud to be an American citizen. To those service people of the Marines, Navy, Army, and Air Force who gave up their life for freedom in Vietnam, may they R.I.P.

Your web site is wonderful.
Cau Le

---

CAP
KIA
Lists

Submitted by: Rick Schelberg, CAP 2-4-3

A complete listing of CAP KIAs as submitted by Rick Schelberg, CAP 2-4-3. The following are those pages indexed in a variety of formats.

Note
CAG = Combined Action Group / CACO = Combined Action Company / CAP = Combined Action Platoon

---

CAP Web Site Index